Hoboken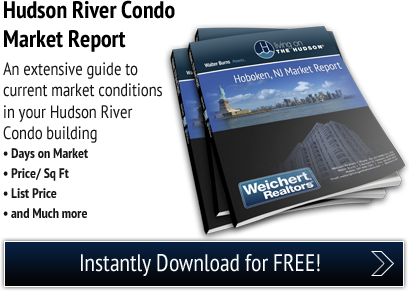 The W Hoboken
| | |
| --- | --- |
| Price Range: | $950,000 - $2,500,000 |
| Sqft: | 800 - 2,000 |
| Address: | 225 River Street |
| City: | Hoboken |
| State: | New Jersey |
| Zip: | 07030 |
| Area: | Hoboken |
Full Details
Condominium Information for The W in Hoboken, New Jersey
Mini Market report of the W Hotel Hoboken condos for sale. Update 5/16/13
Number of units available: 2
Number of pending sales (under contract): 0
Average Days on Market: 217
Average asking price: $2,087,500
Average living area: 1902 sqft
Average price per square foot: $1097
Lowest priced listing: The W Hotel 225 River St. Unit 1904 Hoboken New Jersey $1,975,000
Highest priced listing: The W Hotel 225 River St. Unit 1901 Hoboken New Jersey $2,200,000
Current Sales Data for W Hotel Hoboken Condominiums
For the period 01/01/2013 to 05/16/2013
Number of units sold:0
Average sales price: $0
Average sales price per square foot: $0
Lowest price sale: $0
Highest price sale: $0
The W Hoboken Hotel and Residences, Perfect Splendor
Bringing together beauty and clarity with innovation is what the Gwatherny Siegel architects have accomplished with The W Hotel in Hoboken. The glass and zinc tower give the sense of openness that residents can savor, along with the outstanding views of the Manhattan skyline. With 2, 3, and 4 bedroom condos available, there is something to suit any taste. The real estate expertise of Walter Burns and the team of real estate professionals at Weichert Realtors will assist you in the condo buying process and you will be savoring your amazing new home in no time.
Unsurpassed Luxury at the W Hoboken Hotel and Residences
Walking into your W Hoboken condo will leave you breathless with the amount of amenities you get to enjoy on a daily basis. Residents can appreciate the attention to detail taken in the design and completion of each W Hoboken Hotel and Residence condo. The amenities include:

• 10' ceilings
• Balconies with expansive views
• State-of-the-art kitchens featuring subzero refrigerators
• Deluxe bathrooms with granite, glass and tile with American Standard and Kohler fixtures
• Bosch washer and dryer
• Wireless Internet Service
• Bamboo flooring
• Solid wood doors throughout the interior
• Individually controlled thermostats
Glorious Services for Residents of The W Hoboken Hotel and Residences in Hoboken
After long days or nights, residents at The W Hoboken can unwind at the Bliss Spa or re-energize at Sweat Fitness. These facilities span two floors and offer unsurpassed service to help residents relax. Residents will also get to benefit from the Whatever/Whenever services, which include:

• Housekeeping and laundry services
• Weekly in-home Botanical services
• 24/7 in-home maintenance services
• Pet services including walking and grooming
Live in the Lap of Luxury at The W Hoboken Hotel and Residences
Come home to The W Hoboken Hotel and Residences in Hoboken and enjoy not only the fabulous amenities, but the conveniences Hoboken has to offer. You can stroll along Washington Street to delight in the old world cafes, unique shops, bistros, and pubs. More shopping, dining and entertainment experiences can be easily accessed in nearby Manhattan.
If The W sounds like the kind of Hoboken condominium community that would complement your lifestyle well, then contact me, Walter Burns.
I'll be happy to let you know about any available listings as well as answer any questions you might have.
In the meantime, please feel free to check out some of my Hoboken condo buying tools, which have proven quite helpful to Hoboken condo buyers just like you.

Are you thinking about selling your Hudson River condo? Be sure to click the graphic below and I will help you determine the value of your unit.

Content authored by Walter Burns
The W Hoboken Hotel and Residences Real Estate News
Map
Search nearby businesses, schools and more. Enter a business name or keyword and click search. Then use the arrows to scroll through your results.