Hoboken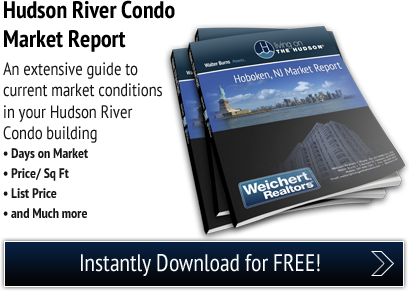 Hudson Tea Building
| | |
| --- | --- |
| Price Range: | $400,000 - $1,500,000 |
| Sqft: | 700 - 4,500 |
| Address: | 1500 Washington Street |
| City: | Hoboken |
| State: | New Jersey |
| Zip: | 07030 |
| Area: | Hoboken |
Full Details
Condominium Information for Hudson Tea Building in Hoboken, New Jersey
Mini Market report of Hudson Tea Building Condos for sale. Update 5/16/2013
Current Sales Data for Hudson Tea Building Condominiums
For the period  01/01/2013 TO 05/16/2013
Number of units sold:13
Average sales price: $576,080
Average sales price per square foot: $589
Lowest price sale: $409,000 ( 1500 Hudson St Unit 8A Sold on 2/28/13)
Highest price sale: $940,000 (1500 Hudson St Unit 11E Sold on 4/3/13 )
Spectacular Waterfront Hoboken Condos at Hudson Tea
Vast windows in your Hudson Tea condo will provide breathtaking views of the Hudson River. These luxury Hoboken, NJ condominiums are located on active Washington Street. Being located in the landmark building, which was once home to the Lipton Tea Company, makes Hudson Tea a desirable Hoboken location. Hudson County real estate expert, Walter Burns, can help you search the Hoboken, NJ MLS for the perfect Hudson Tea condo.
Hudson Tea Has Amenities to Satisfy the Most Discriminating Taste
With a variety of New Jersey condominiums to choose from, you will be completely satisfied after choosing Hudson Tea condos as your Hoboken home. The lavish amenities are superior and will make your lifestyle at Hudson Tea a daily pleasure.

• Fully-equipped, state-of-the-art fitness and aerobics facility
• Business Center
• On-site Café
• On-site parking
• Residents' Club
• Children's Room
• Waterfront Promenade
• Daily Shuttle Service to PATH
• 24-hour Concierge
Investing in a Hudson Tea Building Condo on the Hoboken Real Estate Market
If Hudson Tea Building sounds like the kind of Hoboken condominium community that would complement your lifestyle well, then contact me, Walter Burns.
I'll be happy to let you know about any available listings as well as answer any questions you might have.
In the meantime, please feel free to check out some of my Hoboken condo buying tools, which have proven quite helpful to Hoboken condo buyers just like you.

Are you thinking about selling your Hudson River condo? Be sure to click the graphic below and I will help you determine the value of your unit.

Content authored by Walter Burns
Hudson Tea Building Real Estate News


Map
Search nearby businesses, schools and more. Enter a business name or keyword and click search. Then use the arrows to scroll through your results.