A full-time agent for nearly two decades, Walter relies on to-the-minute data and proven marketing strategies to deliver clients the results they deserve. Whether you're selling your luxury condo or buying a property in Hudson County, you can trust Walter and his team to provide a real estate experience that will leave you more than just satisfied.
Since becoming a Realtor in 2002, Walter has been mentored by several of the top 100 Realtors and developers throughout the United States and Canada. Today, he resides in Hoboken and leads his team under Keller Williams City Life Realty.
Numbers Speak Louder Than Words
---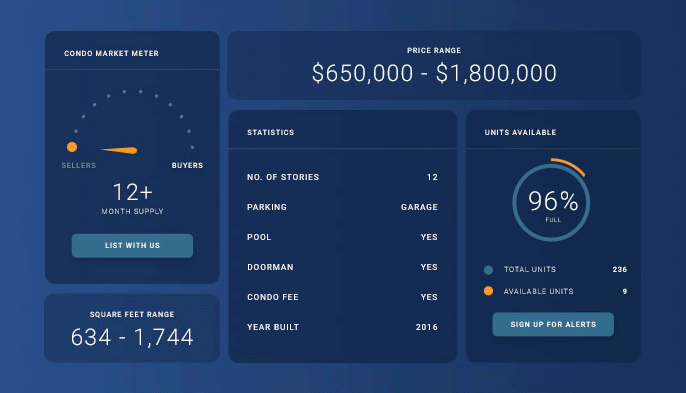 Marketing Strategies
The Living on the Hudson Team's condo pages provide real-time statistics for all of Northern New Jersey's top communities, which makes it easy for both buyers and sellers to view inventory, keep up with the latest trends, and monitor sold or active listings.
Walter's Sold Portfolio
---
As one of Hudson County's top producers, Walter has the expertise to get your condo sold as quickly as possible, all while maximizing your equity. Check out a few of his recently sold properties and get in touch when you're ready to list.
See More Listings
What Others Are Saying
---
"I cannot say enough positive things about Walter Burns! His knowledge of the market combined with his professionalism and relatability made the difficult task of selling a loved one's home as comfortable as possible. He was patient, empathetic, and always kept the lines of communication open. You will not regret trusting Walter to sell or buy your home."
---
- mjohn5
"Walter Burns did a superb job of selling our 1870's row-house in the Paulus Hook neighborhood of Downtown Jersey City. Previous to the sale, Walter had found us two sets of wonderful tenants for our rental apartment, so we knew Walter well. We never thought of approaching anyone else to help us sell our home. We decided to sell rather suddenly, prompted by the birth of a grandchild and the simultaneous restrictions of the pandemic. Walter was professional, attentive to us and to detail, and offered us excellent advice about the timing of the listing, the price, and the staging of the house ourselves. He worked with a superb photographer who showcased the property and all its authentic historic detail to the fullest advantage. Walter was extremely helpful in guiding us about showing times, how to handle showing the tenants' apartment, and what to expect each step along the way. If you want a realtor who knows the Jersey City market inside and out, who has the expertise to save you from mistakes, and who has the professional experience to guide you through a successful sale, work with Walter Burns.."
---
- Thea Volpe-Browne6
See More Listings